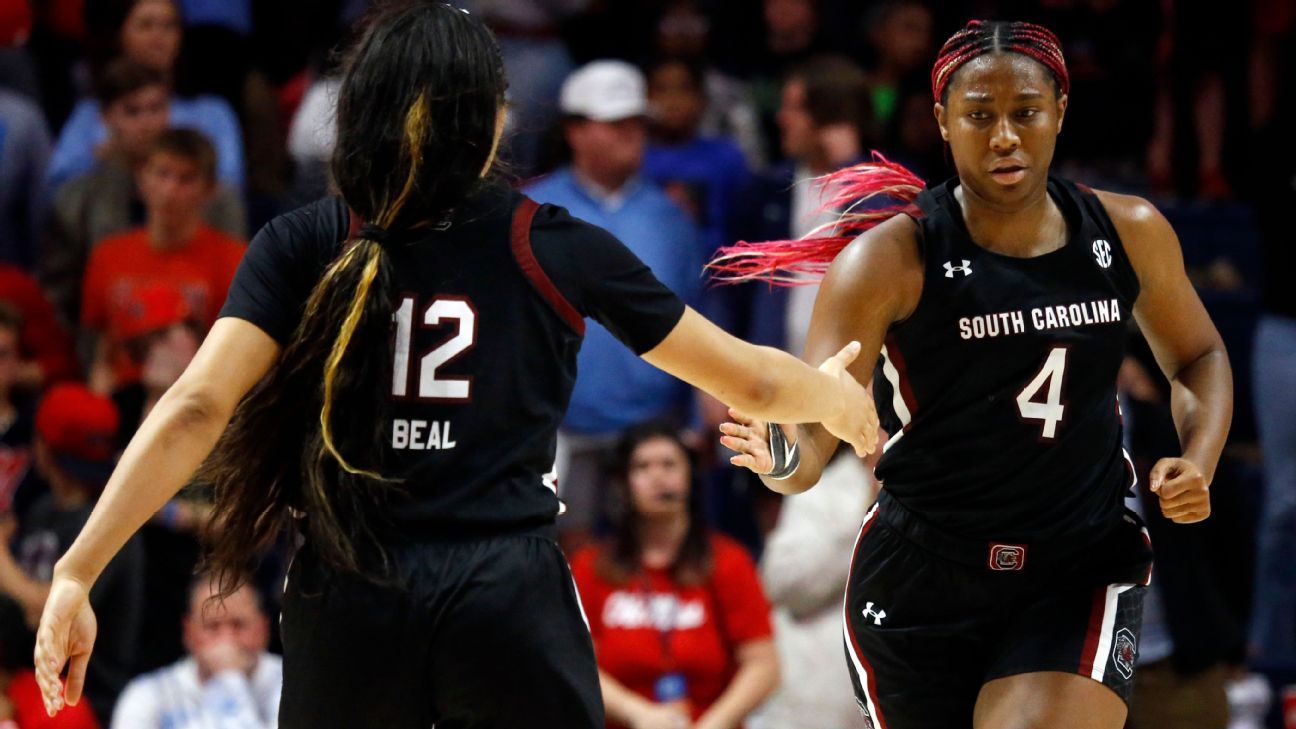 Almost exactly a year ago, South Carolina was stunned in the SEC tournament title game when Kentucky hit the championship-clinching shot with less than five seconds remaining.
The moment feels like an eternity ago — in reality, 366 days have passed — given all the Gamecocks have accomplished since: a national championship, the SEC regular-season and tournament titles and, most notably, an undefeated streak of 38 games dating to last season that now officially stretches a calendar year. The Gamecocks ensured it by breezing past the competition this past weekend in Greenville, South Carolina, winning each game by an average margin of 24 points.
Nothing is guaranteed in the 2023 women's NCAA tournament, where South Carolina is sure to be the No. 1 overall seed, but the Gamecocks are officially within reach of not just repeating as national champions but joining the exclusive club of programs that have achieved undefeated seasons.
Only four programs can claim such a feat: Texas (1985-86), Tennessee (1997-98), Baylor (2011-12) and, six times, UConn (1994-95, 2001-02, 2008-09, 2009-10, 2013-14, 2015-2016). Only two, the Lady Vols and Huskies (three times), repeated as national champions while going undefeated in the process.
This year's Gamecocks became the first team to enter March unbeaten since 2018, when both UConn and Mississippi State did. Coincidentally, neither squad kept that distinction very long, as the Bulldogs fell to South Carolina in the SEC tournament and Arike Ogunbowale's famous buzzer-beaters eliminated first the Huskies in the Final Four and then Mississippi State in the national title game.
As the Gamecocks inch closer to perfection, ESPN's Charlie Creme, Alexa Philippou and M.A. Voepel take a look at their season, how this team stacks up against those of undefeated teams of the past, Dawn Staley's impact on the Gamecocks and more.
The NCAA tournament bracket will be revealed Sunday (8 p.m. ET, ESPN/ESPN App), and South Carolina will host early-round games, with the first round being played March 17-18.
Which former undefeated champion is most similar to the 2022-23 Gamecocks?
I've been fortunate to see every undefeated NCAA champion play in person. The 1986 Longhorns most remind me of this South Carolina squad: Both had superstars and depth that was not just window dressing but really part of why they were ultimately impossible to stop. The 1998 Lady Vols were also deep and ran the table in the SEC as the Gamecocks just did.
The Longhorns were 29-0 entering the 1986 NCAA tournament (the field was still 40 teams and they had a first-round bye) and a 66-63 win over Ole Miss in the regional final was their only scare in five victories for the national title. Texas averaged 83.9 PPG that season, with the bench accounting for almost exactly half: 42.0. The reserves included freshman Clarissa Davis, who was the 1986 Final Four Most Outstanding Player after 56 points and 32 rebounds in Texas' wins over Western Kentucky and USC.
Texas had six seniors — including Annette Smith, Kamie Ethridge and Fran Harris — who had been through a lot together and formed a strong bond. Same goes for this year's Gamecocks. They have six seniors who have played their entire college careers with South Carolina: Aliyah Boston, Zia Cooke, Brea Beal, Laeticia Amihere, Olivia Thompson and Victaria Saxton (in her fifth year), plus graduate transfer Kierra Fletcher, who spent four seasons with Georgia Tech.
Just as Texas could go to its bench for someone as good as Davis, the Gamecocks have players such as 6-foot-7 junior center Kamilla Cardoso and 6-5 Amihere among their reserves. Together, they combine to average more than 17 points and 12 rebounds.
The 1998 Tennessee team that went 39-0 was led by its juniors, Chamique Holdsclaw and Kellie Jolly, and freshmen, Tamika Catchings and Semeka Randall. Like Texas in 1986, the '98 Lady Vols had only one close game in their title run, which was also in the Elite Eight. But Tennessee rallied to beat North Carolina 76-70, then won in blowouts against Arkansas and Louisiana Tech at the Final Four.
Holdsclaw was the WNBA's No. 1 draft pick the next year, 1999, as we expect Boston will be this year. Catchings was the No. 3 pick in 2001, in part because she had a knee injury that cut short her senior season, but she went on to a spectacular WNBA career.
The 1998 Tennessee team didn't have quite the depth of 1986 Texas and 2023 South Carolina, but it had players such as Kyra Elzy, Kristen Clement and Teresa Geter — all of whom would have been starting for many teams — coming off the bench. And, as South Carolina is trying to do now, the 1998 Lady Vols repeated as national champions; in fact, they three-peated, having won in 1996 and 1997.
An interesting footnote: Jolly — now Kellie Harper — is Tennessee's coach, and Elzy is Kentucky's coach. Both of them lost twice to South Carolina this season. — M.A. Voepel
What stands out statistically about South Carolina compared with other perfect teams?
Cooke, South Carolina claim SEC tournament title
No. 1 South Carolina hoists its seventh SEC tournament trophy in the past nine seasons behind Zia Cooke's 24 points in the 74-58 win over Tennessee.
The Gamecocks' calling cards this season have been defense, rebounding and depth, and that dominance is reflected when comparing their stats in those areas with those of other undefeated teams.
South Carolina's plus-20.5 rebounding margin heading into the NCAA tournament would be far and away the most lopsided of any previous undefeated team, with the next-best mark coming from the 2002 Huskies (plus-15.5). The Gamecocks' performance on the offensive glass, in particular, is a step above the rest: Their 48.6% offensive rebounding rate is the best mark in the country, according to HerHoopStats.com, with Boston and Cardoso mastering the glass.
Defensively, their 51.5 points allowed per game would be fourth-best among perfect teams, with a handful of UConn squads in the 40s coming in ahead of them. Similar to their rebounding prowess, the Gamecocks' bench scoring (36.7 bench points per game) is eyebrow-raising, with 2016 UConn (23.5) coming in as the next closest of undefeated teams since 1999-2000.
Once again, Cardoso is responsible for much of this, averaging 10.0 points per game (third-best on the team). But don't sleep on Amihere, who averaged 12.3 points off the bench in the SEC tournament, or Raven Johnson, who put up a season-high 14 points in a massive four-point win over UConn. — Alexa Philippou
What has coach Dawn Staley done to get the Gamecocks to this point?
Many things stand out. Player development has been key. Boston has become as good a college post defender as you will find, and she doesn't rush or force her offense. Boston thinks the game very well, and she knows how dangerous South Carolina can be even when she's not scoring big. If teams want to triple-team her, she will deal with it just fine. Staley has helped instill patience in Boston.
Cooke has become a strong perimeter scorer whose defense has risen to the level of always being reliable, too. Staley also pushed Cooke to develop her own confidence and not depend on getting it from her coach. She knew the best way for Cooke to reach the level she is now was to learn to believe in herself.
Beal has embraced her defensive role like few players in the country. Cardoso and Amihere know how effective they are off the bench. In fact, it's rare to see any of South Carolina's rotations have a drop-off in quality or intensity. It's why there's no letup when facing them; the Gamecocks are able to wear down even top opponents who are playing well.
What's as impressive as anything in Staley's work is how she's been able to get buy-in from all players on what their specific role is and why it's important. That's never been an easy part of coaching, and it's harder than ever now because transferring has never been easier. Under Staley's leadership, the Gamecocks have been unified, driven and focused — and nobody is complaining about playing time or how they are used. Staley's players respect what she's telling them about how to get to another national championship. — Voepel
Do the numbers back up South Carolina's greatness?
South Carolina has held the No. 1 ranking in the AP poll for 37 consecutive weeks and is on the verge of becoming just the third program to go wire-to-wire in the top spot in back-to-back seasons. What other data illustrates just how dominant the Gamecocks have been?
According to HerHoopStats.com, South Carolina is the top-rated offensive and defensive team in the country. The last team to go undefeated for an entire season, 2016 UConn, also was tops in the country on both ends of the court. That Huskies team outscored its opponents by an average of 39.7 points per game, while the Gamecocks are winning by an average margin of 30.3 points. Both were the best in the country. It should be noted that while UConn had the No. 1-rated nonconference schedule in 2016, it also played in the seventh-rated American Athletic Conference, while this year's SEC is the third-ranked league. South Carolina has beaten its SEC foes by 26.4 points per game.
Those numbers put the Gamecocks in a comparable spot with a team that was capping a dynasty.
There is one key statistical nugget, however, that makes this South Carolina team stand apart from the 2016 Huskies or any other team of the past 20 years (or what I like to call the Bracketology era): Not only have the Gamecocks remained the No. 1-ranked team in the AP Top 25 poll all season, they have been in the top spot every day since the NCAA released is first NET rankings Dec. 4 (the NET is the foundational metric the selection committee uss and is a more numbers-based approach to measuring a team's value).
In fact, over the past two seasons — including last year's title run when South Carolina lost two games — there have been only four days when the Gamecocks were not the No. 1-ranked team in the NET (NC State slipped past South Carolina on Jan. 7 and Jan. 20-22, 2022). In 2016, when the RPI was used as the base metric for evaluating teams, UConn lost the top spot in mid-January and never got it back. The Huskies, of course, still were the No. 1 overall seed and went on to win their fourth consecutive NCAA title, but in the most important of all the analytics, this South Carolina team has outdone the last undefeated team. — Charlie Creme