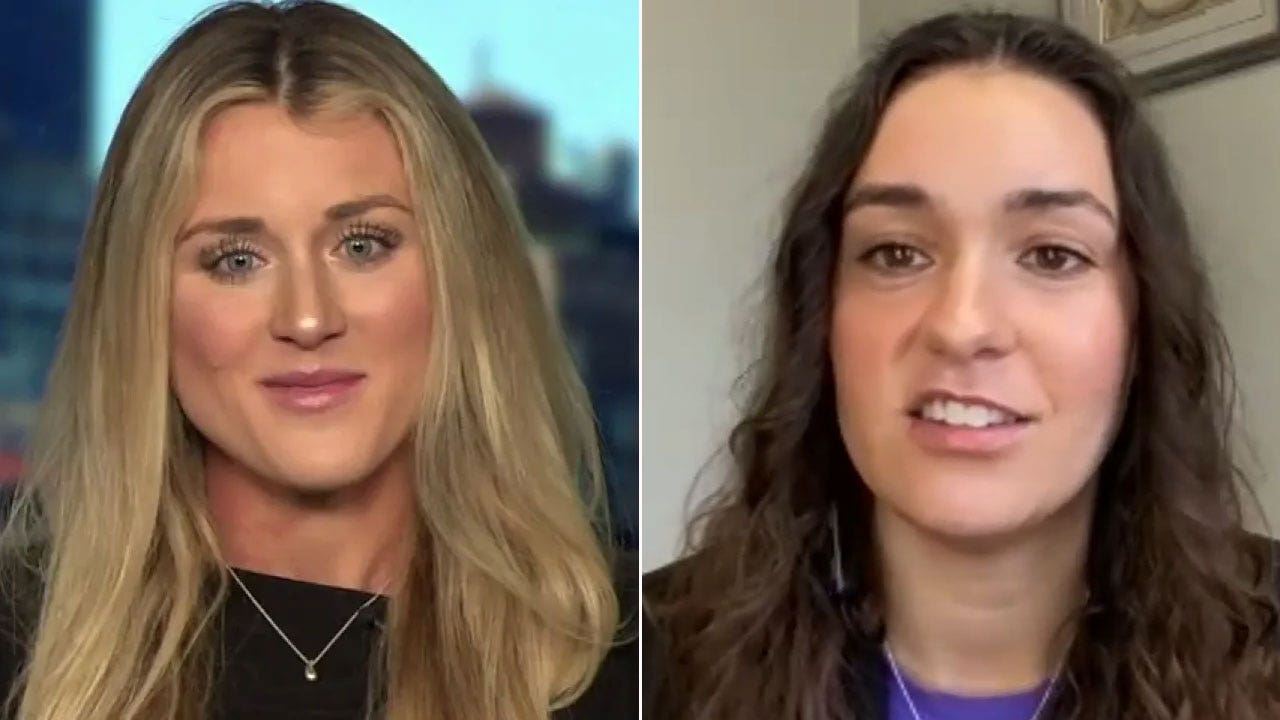 Competitive skateboarder Taylor Silverman doesn't believe the recent attack on former NCAA swimmer Riley Gaines following a speech to students about saving women's sports will hinder their defense of fairness in women's sports. 
"This doesn't hurt our fight, this doesn't hurt our movement. It actually, if anything, brought a lot of light to her story and blew it up more," Silverman told Fox News Digital.
"I hope that everybody knows Riley's story because it's one that I think people are going to be learning about in history books one day," Silverman continued. "This is actually just making people more and more aware of how big a problem this is and what she's fighting for, which is for women to have protected spaces."
RILEY GAINES 'AMBUSHED AND PHYSICALLY HIT' AFTER SAVING WOMEN'S SPORTS SPEECH AT SAN FRANCISCO STATE
Gaines was ambushed by activists shouting "trans rights are human rights" last week after delivering a speech on saving women's sports at San Francisco State University. The 12-time NCAA All-American swimmer, who gained prominence for speaking out when she was forced to compete against transgender swimmer Lia Thomas, said she was "trapped" in a room for three hours while trying to safely escape the campus after the chilling attack. 
"Riley is handling this great. She has stayed positive. She's actually pursuing legal action against the individuals who assaulted her and trying to hold the university accountable because school officials didn't do anything while she was sitting in a room for three hours barricaded, waiting for someone to safely escort her out," Silverman said. 
"Nobody should have to go through that. Protesters were getting physical with her," she continued. "People have the right to protest peacefully and to speak their mind. And Riley, I think, would have been more than happy to have a civil discussion and answer questions. But unfortunately, she wasn't given the opportunity to do that. But she's very brave, she's very tough. And I think this is only going to motivate her to keep going."
RILEY GAINES REJECTS SFSU'S STATEMENT SUGGESTING STUDENTS PROTESTED 'PEACEFULLY': 'I WAS ASSAULTED'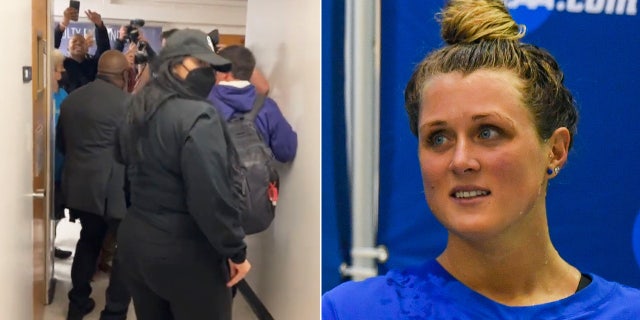 On Twitter, Gaines shared footage she took showing her being rushed out of the venue by police officers amid an onslaught of verbal attacks from the detractors who surrounded her. "The prisoners are running the asylum at SFSU…I was ambushed and physically hit twice by a man," Gaines wrote in the tweet.
"This does not deter me. This assures me that I am doing the right thing," she said Friday on "Tucker Carlson Tonight." "This will not silence me. When they want me to be silenced, it just means I need to speak louder."
Silverman, who considers Gaines a friend, has been outspoken regarding the transgender community since a transgender woman edged her out for a $5,000 first-place prize in the 2021 Red Bull Cornerstone event. Silverman was initially hesitant to speak out, but Gaines' willingness to condemn the NCAA for allowing Thomas to compete with biological women was the push she needed. 
"It was a huge inspiration and motivation for me to take a stand for myself, and not only for myself, but for female athletes everywhere," Silverman said. "I've actually had the honor of meeting her, getting to speak alongside her and become friends with her. And she still is one of my biggest role models."
SWIMMER RILEY GAINES SLAMS ESPN FOR LIA THOMAS WOMEN'S HISTORY MONTH SEGMENT
Silverman was at point concerned about people who use physical violence instead of attempting a civil conversation, which is exactly what happened to Gaines. But now that Silverman is an advocate of fairness in women's sports, she doesn't plan to let what happened to her friend slow down their fight. 
"It's not going to stop me. I'm not afraid. I'm going to keep going. I know Riley will, and all the other female athletes will, too. And I hope that the display of physical violence shows people how serious this issue that we're fighting for is," Silverman said. 
Fox News' Kyle Morris contributed to this report. 
CLICK HERE TO GET THE FOX NEWS APP