The first ambulance service in the United States reportedly rolled to the aid of patients in Cincinnati, Ohio, on this day in history, March 28, 1866. 
"For many years, Bellevue Hospital in New York claimed to have introduced the first citywide ambulance service in 1869, but records show Cincinnati beat them to it," the Cincinnati Enquirer reported in 2018.
It was citing the 1978 book, "The Ambulance: The Story of Emergency Transportation of Sick and Wounded Through the Centuries," by Katherine Traver Barkley.
The book claims Commercial Hospital of Cincinnati at 12th Street and Central Avenue holds this claim to medical fame. 
ON THIS DAY IN HISTORY, MARCH 27, 1912, WASHINGTON, D.C., CHERRY TREES PLANTED, GIFT FROM PEOPLE OF TOKYO
"Hospital employment records listed employee No. 27, James R. Jackson, as an ambulance driver for $360 a year, according to Barkley," the Enquirer reports.
"The 1866 Williams' Cincinnati Directory verifies that James A. Jackson worked as a 'teamster,' or driver, for Commercial Hospital."
The actual date that the very first ambulance rolled into service is the source of some debate.
Jackson was employed by Commercial Hospital as early as 1865. 
But several sources, including Shiloh National Military Park of the National Park Service, cite March 28, 1866, as the date the first ambulance went into service. 
"Jonathan Letterman, the medical director of the Army of the Potomac, created a highly organized system of ambulances." — National Museum of Civil War Medicine
What's not in dispute is that the human carnage left on Civil War battlefields such as Shiloh, and the advances in medicine and trauma response that came with it, had a direct impact on the evolution of the ambulance services that many people take for granted today. 
WITH WORLD WAR II AIRMAN'S REMAINS FOUND, RELATIVE FINALLY 'HAS CLOSURE' FOR WHOLE FAMILY
"In August of 1862, Jonathan Letterman, the medical director of the Army of the Potomac, created a highly organized system of ambulances and trained stretcher bearers designed to evacuate the wounded as quickly as possible," reports the National Museum of Civil War Medicine.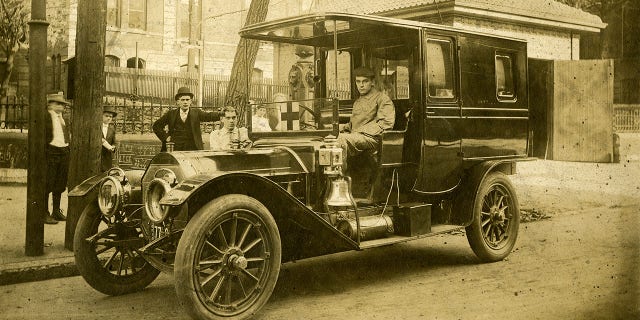 "A similar plan was adopted by the Confederate Army. This system was a great improvement on previous methods."
Letterman's system, and other evolutions during the Civil War, led to a layered system of care. 
MEET THE AMERICAN WHO WROTE 'BEN-HUR: A TALE OF CHRIST': UNION GENERAL LEW WALLACE
It began with immediate triage — separating soldiers with survivable wounds from those likely to die — then field dressing stations and field hospitals, and eventually the transport of wounded to major big-city hospitals. 
The system borne on the battlefield led to profound changes in nationwide medical care after the war.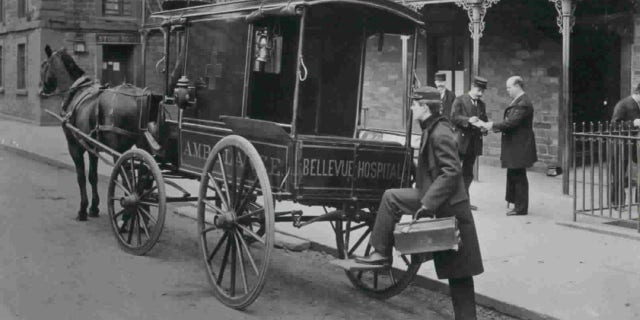 "Hospitals became places of healing rather than places to go to die, as they were widely considered before the war," according to the National Museum of Civil War Medicine. 
"The large-scale hospitals set up by the medical departments had an astounding average death rate of only 9%. Large hospitals became much more accepted by the public after the war." 
CLICK HERE TO SIGN UP FOR OUR LIFESTYLE NEWSLETTER
Ambulance services soon expanded from Cincinnati to other cities around the nation — and around the world. 
Civil War veteran Dr. Edward B. Dalton brought dramatic advances in ambulance services to Bellevue Hospital in New York City after returning to civilian life.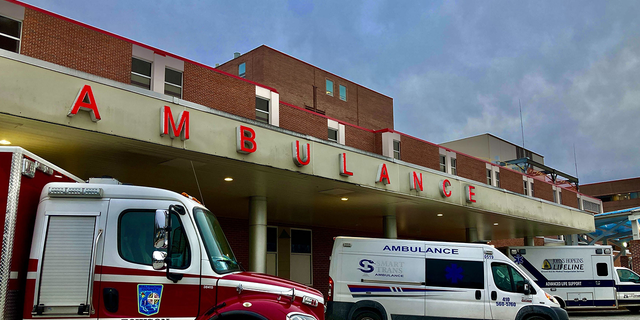 "In June 1869, two lightweight, 800-pound vehicles hit the streets of New York City, staffed by a driver and an 'ambulance surgeon,' an intern fresh out of two years of medical school," Shiloh National Military Park wrote in a lengthy social media post about the history of ambulance care.
"Although Cincinnati had the first civilian ambulance in the United States, New York City had the first modern ambulance equipped with a rolling bed, surgical lamp, pillows, and blankets. Medical supplies included bandages, tourniquets, a stomach pump — plus a straitjacket, handcuffs, a flask of brandy, and drugs like amyl nitrate and morphine."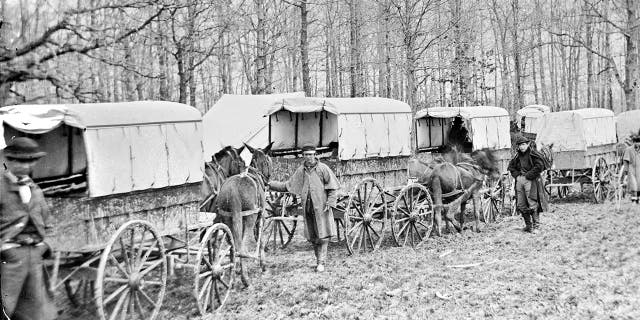 The park added, "War, as often happens, had brought improvements in civilian life."
Bellevue Hospital fielded two ambulances in 1869, which responded to more than 1,400 calls for help, according to the Journal of Emergency Medical Services. 
CLICK HERE TO GET THE FOX NEWS APP
Boosted by that public need, the hospital added five more ambulances in 1870. 
Today, more than 70,000 emergency vehicles respond to about 37 million calls across the nation each year, according to industry sources.